We are architects, we are designers! In January 2020 we finally decided to change strategy: no more messy desks, only the essentials.
Buy our design
The organizer market did not offer us a truly minimal solution designed 100% for those who work all day with pencils, many pencils. We wanted something without the use of technology that it doesn't quickly become old and obsolete.
Today's pencil design was patented by Hyman L. Lipman of Philadelphia in 1858, 162 years ago.
We have thought of a design that can be current for at least another 160 more years! Less technology more equal more product life. We believe that a good design product must have only the essentials and last over time!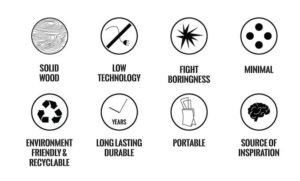 Now we are sure that MINA is the best and most creative pen holder we'll ever have. And it can also fit your eraser and some paper clips or even your phone!
Each MINA is handcrafted and 100% Made in Italy, from a piece of solid wood with 4 holes for your pen and pencils and 4 half holes that, complete with another piece of MINA, can hold other pen and pencils.
The 3 magnets, left, right and bottom, allow you to combine multiple MINA together and use the remain free magnets to attach metallic office stationery like paper clips.
Please visit:
Our Kickstarter campaign funded in March 2020.
LOCATION :
YEAR : 2020
TYPE :